What do brains and hummingbird flight muscles have in common?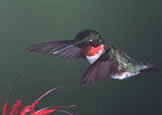 They're both loaded with DHA, the longest and most desaturated omega-3. The Queen of Fats, my newest book, tells the story of these fats (and how they came to be removed from Western diets). It was published by the University of California Press in September of 2006 and has been called the "silent spring" of nutrition books . (Photo of ruby-throated hummingbird by Russell C. Hansen).
In the past ten years or so, I've been combining my interests in science and cooking to write about food and how food shapes both behavior and health. "You are what you eat," everyone has heard, but few people realize just how far this simple phrase extends. I became captivated with the omega-3 story after learning that this same family of fats is required for both photosynthesis and thinking -- the speediest activities in plants and animals, respectively. And I wrote The Queen of Fats to bridge the vast gulf between what scientists know about these fast-acting fats and what the general public knows.

I have a compelling slide presentation of The Queen of Fats, I first gave at the American Museum of Natural History and that is appropriate for groups of physicians, nutritionists, students, and parents. I've also started baking a line of high-omega-3 cookies, including a Breakfast Cookie (www.susiesmartcookie.com), as a way of getting more of these healthful fats into the American diet; and I tweet regularly on turning traditional recipes into high omega-3 meals. As always, I'm available to give presentations on my other books: The Primal Feast; Sermons in Stone; and A Natural History of Parenting.